Sikh Priest for Sikh Destination Wedding Planners & Couples
Sikh Destination Weddings
You are taking a bold step in choosing to have a Destination Sikh Wedding. Not everyone in the extended family or relatives may be on board with your decision, and they may have even questioned your intentions. What is their common concern? How can you have destination Sikh Weddings in UK, outside the Gurdwara or elsewhere with care, respect, and reverence?  The answer is simply, YES you can!
We exclusively work with resorts and wedding planners for Sikh destination weddings at unique destinations in UK and around the world. We are well aware of the fear, confusion, and conflict that has been created by a few to crush the dreams of thousands of sweet and caring loving couples. The Sikh Wedding is a sacred defining moment in life where the goal of the Anand Karaj is to unite the couple, friends, families, and all attendees in an interactive ceremony sharing the power of Universal energy and LOVE.
Our experience has allowed us to respectfully present all the Sikh traditions at destination weddings, Outdoor Sikh Weddings, and Interfaith Sikh Weddings UK. We are familiar with the finer details required for the execution of a flawless ceremony. We have built a relationship with a reliable Sikh wedding planner UK team.  We have taken a vow to conduct a spiritual, personal, heart-centered ceremony so the wedding couple can be well informed to understand and overcome the trials and tribulations of marriage, and enjoy a healthy, trusting and meaningful union.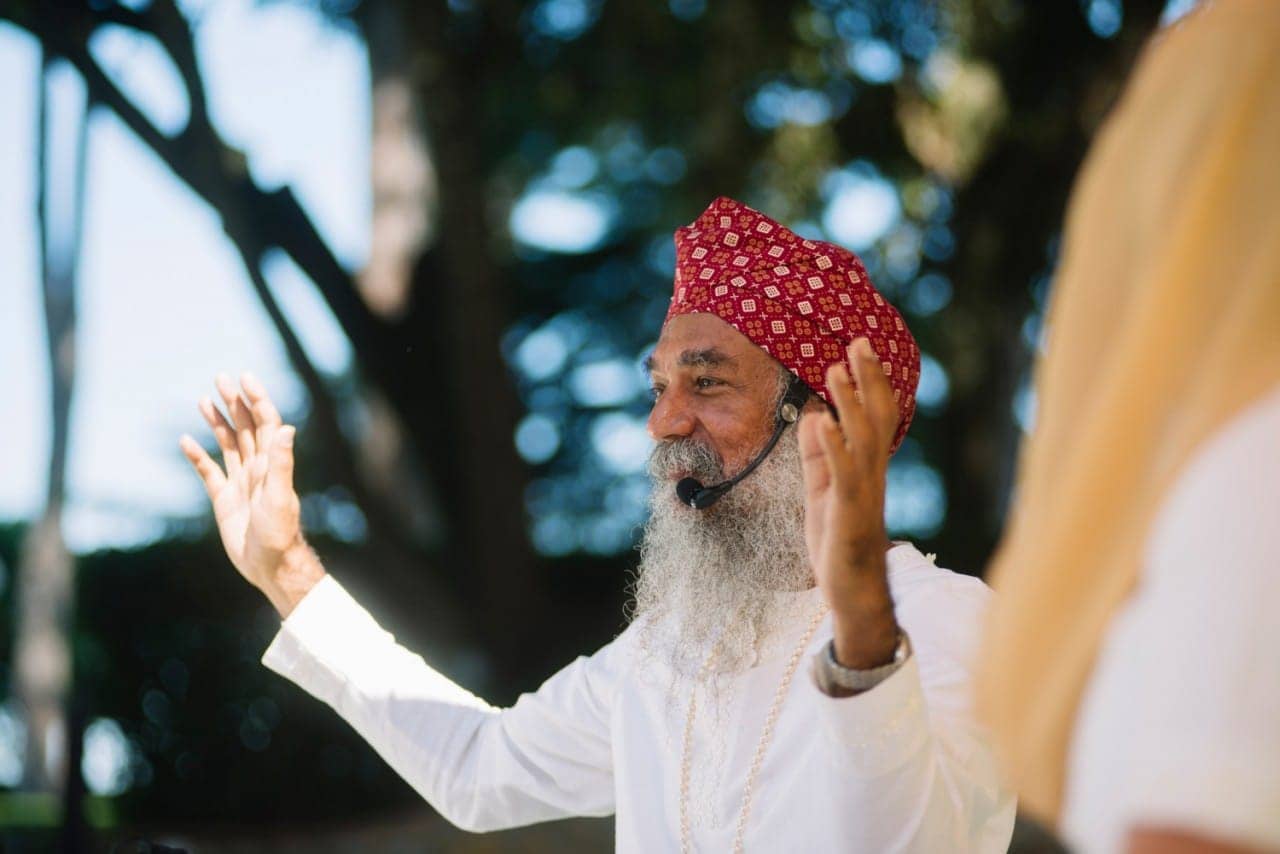 Working with Sikh Wedding Planner UK
All couples have a fundamental right to receive blessings from loved ones and the wisdom and knowledge of the sacred teachings in the Siri Guru Granth Sahib, Sikh Scriptures at a respectfully prepared ceremony space.
We are a multi-racial couple in our 60's who travel the world sharing love. We have a clear understanding of the dynamics surrounding typical Interfaith Sikh Weddings, traditional, cultural, multi-racial, and Sikh Fusion weddings, and the common issues, dynamics, and problems that come with planning a destination wedding. Over the years, in our evolution, we have had the privilege to sing Kirtan at many Gurudwaras.. You can hear our devotional Gurbani Kirtan under the title, Sikh Kirtan on iTunes.
Our purpose at Sikh weddings is to share and create special, meaningful, cultural unions at destinations where everyone is welcome and included. As caring ambassadors of humanity, we like to use nature as our fulcrum for keeping a fresh and healthy perspective toward life.
Request a Quote - Agree on Terms - Plan your Ceremony
The entire planning process of your Sikh Wedding Ceremony in UK is simple and concise.  As professional Sikh Destination Wedding Priests, we collaborate with esteemed Sikh wedding planner teams working out the finer details required to make your Anand Karaj impeccable.
1. Request a Quote
Please fill out the online form on our contact Sikh Weddings UK page for a free quote.  Our booking manager will respond punctually with availability, rates, and a quote based on your ceremony location.  Travel fees and travel time are included in the quote.
2. Agree on Terms
Upon receiving the quote if you wish to book our services, you will need to respond with your package choice.  Deposit info and agreement terms are sent for you to sign. When both are received your booking is confirmed.
3. Plan your Ceremony
Upon confirmation, you will receive document files that will assist you, your planner, decor company, and hosting venue to set up your destination Anand Karaj Ceremony space with respect and dignity. You as a couple will also have video call(s) with us months before your special day so both parties become acquainted with each other and to discuss the finer details of your upcoming ceremony.
Pre-Sikh Wedding Support
We provide personalized, pre-wedding guidance and support for your culturally inclusive Hindu Sikh Wedding.  We take great care in providing the utmost attention to detail from the initial stages of the booking process until the execution of your Hindu Punjabi Wedding ceremony, expect nothing less.
Onsite Rehearsal & Overseeing Wedding Setup
We have a special rehearsal meeting with the couple and a professional Destination Sikh Wedding Planner to run through the ceremony and logistics a day before your Sikh, Jewish Sikh Wedding or Asian Sikh Wedding. We oversee the ceremony space transformation for a serene, sacred Gurudwara-type ambiance.
Personalizing Your Sikh Wedding Ceremony
Our bilingual presentation is profoundly personalized, meaningful and spiritual, containing all elements of the Sikh tradition. Your exclusive Indian Sikh Destination Wedding Europe will be conducted in Punjabi Gurmukhi with discussion and presentation made primarily in understandable practical English.